Upholstery is one of the most important aspects when choosing sofa for your space. We love to feel cozy and at ease – what a better way to do that than to have upholstery that you will love for many years to come.
FABRIC
Fabric upholstery is a classic choice for a sofa that looks good and does not require much care. We use Oeko-tex® certified upholstery fabrics. Therefore, it does not contain allergy-promoting or other harmful chemicals and guarantees that materials are produced under safe social and environmental conditions.
LEATHER
Leather is the foremost choice for a sofa that is modern and timeless. If kept and treated correctly, it will look better with age and will last for years. As it is natural material, it is completely normal for leather to have uneven appearance – folds and creases, that are not defects but rather natural characteristics, making each sofa to look unique.
corduroy
Corduroy is the kind of trend that gracefully toes the line between timely and timeless — it always feels special and it's perennially in style. A timeless trend well-worth the investment.
Velvet
Soft, durable and pleasing on the eye. Velvet adds an inviting look to the furniture. The fabric will bring a glow and sense of sophistication and is the perfect choice for a modern, classy atmosphere in your home.
Classic Velvet
Velvet lux
Solo
Adore
Seven
structured
Bring structure into your home! The fabric is formed by two thread groups crossing at right angles to each other. Chenille yarns are woven into the fabric which makes it naturally soft and voluminous, giving the fabric a firm and cozy feel.
Taffie
Marzena
Alis
Renegade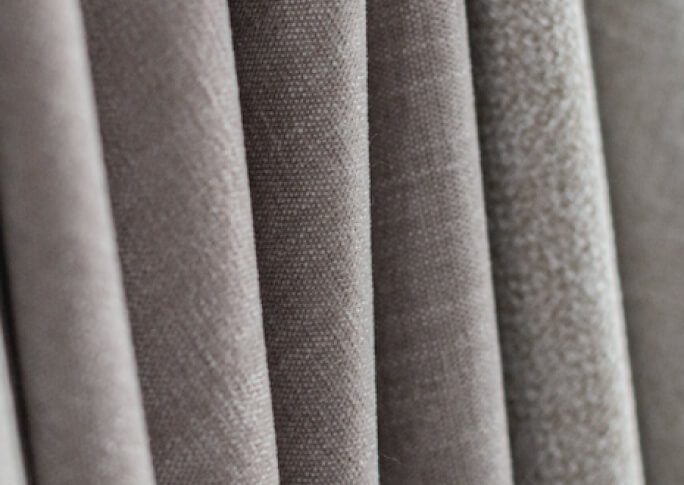 scandinavian style
Extremely textured and comfortable fabrics. A great choice for lovers of Scandinavian interiors who appreciate natural materials with simplicity and functionality. A sofa dressed in Scandinavian style fabric will create coziness and peace at home.
Lido
Corsica
West
Casa
Elena
Board
microfiber
Microfiber is made from synthetic materials, typically a polyester – nylon blend. The fabric is durable and usually water-resistant, which makes it ideal for a sofa that will be used often.
Texas
Touareg
Alabama
Boston
natural leather
Natural leather has specifically been developed for furniture upholstery. Our beautiful cow leather originates from South Africa. The leather is tanned with chromium and vegetable ingredients, dyed in a barrel and corrected afterwards. The distinct look is achieved by finishing the leather with paraffin, oil and aniline dye.
corrected leather
Corrected leather is made from the top of the hide which is carefully sanded to remove imperfections, dyed and embossed with an artificial grain to achieve the classic leather aesthetic and uniform look. Corrected leather requires less maintenance and has better resistance to scratches and spills. It is a perfect choice for public areas and households where the sofa is subjected to heavy use.
eco leather
After the leather is treated with aniline, it is covered with a thin surface layer that adds a greater variety of texture and keeps the natural softness. The color of the leather will remain more consistent over time, as well as more resistant to scratching, moisture and stains – this becoming a perfect choice for commercial areas and households with children and pets. However, it should be noted that semi-aniline leather must be kept out of direct sunlight.
Have any questions? send us a message